THE 4th INTERNATIONAL CONFERENCE ON TECHNICAL AND VOCATIONAL EDUCATION AND TRAINING (4th ICTVET) 2020
The main question that worries the global educational system is "How the process of transformation of the traditional model of education in the era of the Fifth industrial revolution would happen?". The new education" as a system for supporting the educational needs of a person throughout life, in contrast to the so-called "industrial education". The current system of school and University education is built on these principles, having high efficiency in preparing people with standard skills, but having difficulties with the formation of non-standard skills and support of personal development". Among the technological innovations that could radically change education, we can list the Internet of things, automatic semantic translators, high-level artificial intelligence, 3D printing, biotechnologies, massive brain–computer interfaces etc. In the near future, educational practices may include biometric devices to track activity and physical characteristics of the student, to correct the methods and speed of learning and to plan individual educational programs.
So that we are here to talk and discus about "Enhancing Vocational Education and Apllication Enggineering Toward Industrial Revolution 5.0" in International Conference on Technical and Vocational Education and Training hosted by Engineering Faculty Universitas Negeri Jakarta.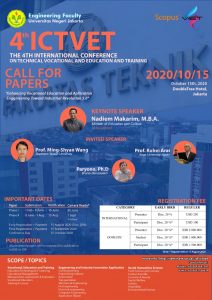 Download Poster ICTVET 2018
---
Conference's issues cover topics below (but not limited to):
Vocational Education and Training

Education Technology & E- Learning
Educational Management
Measurement, Assessment & Evaluation
Vocational Education
Training & Course

Engineering

Mechanical Engineering
Application Digital
Fire Engineering
Transportation
Automotive
Civil Engineering
Electrical and Electronics Engineering
Computer Engineering
Engineering Industry

Social Humanities Science

Food Science and Culinary
Fashion & textile
Cosmetic & beauty
Family Welfare
Culture
Hospitality
Environmental Science
The articles submitted should be focused on the particular topics above.